Pasture Turnout
The welfare of horses is of primary concern with turnout groups carefully managed for compatibility.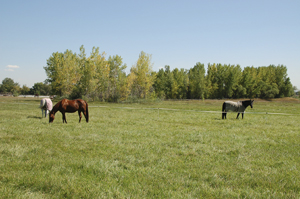 RMEC has approximately 20 acres devoted to pasture turnout. Horses are turned out daily, weather permitting. In the spring, turnout fields are harrowed, irrigated, and fertilized. The grass pastures are carefully managed so that grass fields are available to the horses most of the year. Private drylot turnouts are also available for horses needing a more isolated environment. During the spring haying season, horses continue to have turnout in drylots and are provided with hay.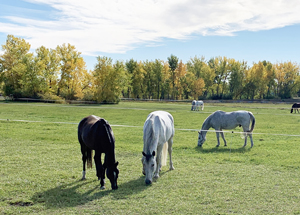 The pasture is sectioned off with electric tape so that small groups of horses are separated from one another yet visible to each other.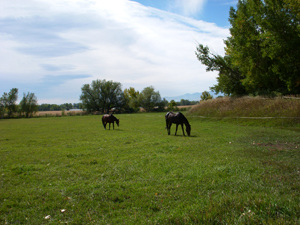 Daily turnout and blanketing is included in the price of monthly board. Horses are grouped according to compatibility and needs. Staff work with each client to insure the safety of the horses. Some pasture turnout fields allow for small groups of compatible horses to be turned out together.
Private Turnout
Private and small dry lot turnouts are also available for those horses with special individual circumstances. Private turnouts are located near the arena and barn areas. Hay and water are provided.
Rabbit Mountain Equestrian Center, LLC
www.rabbitmountainequestriancenter.com or www.rmec.co