BARNS
RMEC has two indoor barns that connect to the indoor arena via sliding doors.  This allows clients to tack-up and ride without exposure to inclement weather.  Each barn has a wash stall with hot and cold water, a heated tack room, and exhaust fans to maintain fresh air as needed. Barn aisles and stalls have rubber mats throughout.
Indoor Stalls
32 stalls, measuring 12 ft x 12 ft, house the horses. Each stall has rubber mats covered with shavings and cleaned daily.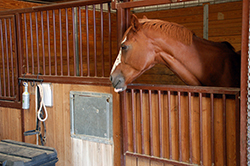 Outdoor Runs
In addition, RMEC has ten outdoor runs that measure 12 ft x 36 ft.  The runs have a canopy and are sheltered on three sides by the two barns and indoor arena.
Drainage is maintained during incelement weather.

ARENAS
RMEC has indoor and outdoor arenas with excellent footing.
Indoor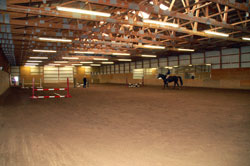 Groomed daily and available for client use.
Large wall mirrors hang in the indoor.
In addition to the main arenas, RMEC has a grass dressage arena available for clinics.
Overhead lighting is excellent.
Outdoor Ring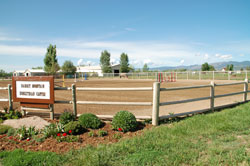 The 220 ft x 115 ft arena provides scenic vistas of the Colorado front range mountains.
Groomed daily and available for client use (weather permitting).
BRIDLE PATH
RMEC has a mile loop perimeter trail around the property. It borders a creek on one side and also has good grazing.
Clients and their families are welcome to walk the path with their dog during or following a lesson and enjoy the beautiful views and countryside.
CROSS COUNTRY JUMPS
Along the bridle path are logs, ditch jump, and other obstacles for trail and cross country schooling.
ROUND PEN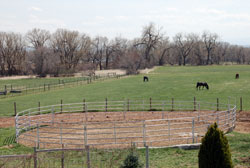 The round pen is available for training and exercising.
TRAILER PARKING
Boarders are welcome to store their horse trailer at RMEC at no extra charge.
SAFETY
RMEC maintains accreditation by the
Certified Horsemanship Association (CHA)
www.cha-ahse.org. 

This accreditation exemplifies our constant commitment to the well being of our equine friends
and to equine and human safety.
An approved helmet must be worn when jumping, and all persons under the age of 18 must wear an approved helmet at all times.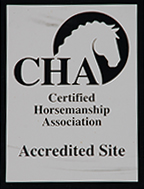 Rabbit Mountain Equestrian Center, LLC
www.rabbitmountainequestriancenter.com
www.rmec.co