TRAINERS/INSTRUCTORS
RMEC is pleased to have several trainers and clinicians meeting the needs of the equestrian. Our trainers work together to meet the goals of individual riders. Many of our trainers have lesson horses available. Please contact trainers individually to find the match that works for you.
Dressage and hunter/jumper horses are available for lease.
TRAINER INFORMATION
Julie Barringer-Richers
Julie Barringer-Richers, Wild Rose Farm, moved her training business to RMEC after 20 years at Autumn Hill International Equestrian Center. Julie comes with years of experience teaching children through adults at all levels of dressage. Many of her students enjoy the show ring while others prefer riding "at home". Julie's modesty precludes listing the numerous awards her students have won over the years, but she brings a wealth of knowledge and expertise while welcoming new clients at all levels.

Julie is an active participant in the Rocky Mountain Dressage Society and welcomes your inquiries as you develop your goals as a rider, whether beginner or advanced.

Find Julie and her students on the Wild Rose Farm Facebook page!
Contact Julie at jabr57@gmail.com 720-341-5033
Greta Vowell
Greta Vowell, Dressage Pacifico, offers quality dressage training from beginner through the FEI levels. She is also experienced in rehabilitating horses following surgery or injury. Greta believes that in teaching and training, fairness to the horse is above all else. Her philosophy is geared to the best ability of each individual rider and horse.

Greta is a USDF Bronze and Silver Medalist, was a member of the 2007 USDF Reg 5 NAYRC Team, winner of the 2007 Capt. Andrew de Szinay Memorial Award, and USDF Young Rider Graduate. From 1996 to present, she and her students have won numerous Year End and Championship Awards, from Training Level through Prix St. George.
She began riding at the age of three and over the years has ridden in many clinics with noted clinicians such as Susan Martin, Debbie McDonald, Conrad Schumacher, George Williams, Kathy Connelly, Steffen Peters, Lilo Fore and Jan Ebeling.
www.dressagepacifico.com

Delanee Connors
Delanee works with both youth and adults training/riding hunters and jumpers.
Through her life's passion for horses and as a mother, Delanee found a rewarding experience in introducing children to horses. She has developed fun and interesting ways to introduce important life-long horsemanship concepts while still having fun.
Working in student positions, internship programs, and as an assistant trainer to exemplary Colorado trainers, Delanee has taught beginner riders and led horse camps. As part of these experiences, she had the opportunity to ride and show a multitude of sale horses for many different hunter and jumper trainers.
Delanee, Connors Equestrian LLC, offers lessons at many levels of dedication, from the regular lesson rider to the competitive show rider.
Training and lesson packages for horses and riders are available. Some school horses and ponies are available for lease.
Contact Delanee at 720-581-3998 or delanee.k.connors@gmail.com
Beth Nielsen
Beth is a professional rider, trainer, judge and clinician. She was owner of Cleveland based show stable, North Coast Farms for 25 years. She selected, trained, and rode many National, Zone and Ohio PHA champions. Beth qualified numerous horses and riders regularly for, and competed at Devon and the Fall Indoor Circuit back east.
Beth trained the 1996 Medal and Maclay Finals Champion, Lauren Bass. She trained and took many Juniors Riders to the National Equitation Finals. She also has a strong background in Dressage, Pony Club, and Foxhunting.
As a USEF "R" judge for almost 40 years, Beth maintains licenses in Hunters, Jumpers, Hunt Seat Equitation and Hunter Breeding. She has many years of experience judging "A" rated, NCAA, IHSA, and IEA competitions.
After receiving a B.S. in Equestrian Studies from Lake Erie College in Ohio, Beth returned to LEC as a full time faculty professor in Equestrian Studies in 2002-2003 and also coached their IHSA team. Recently, Beth was hired to coach the CU-Boulder English IHSA Equestrian team.
For additional bio information and other queries, please contact Beth at nbnielsen159@aol.com; 408-612-7359





Deeda Randle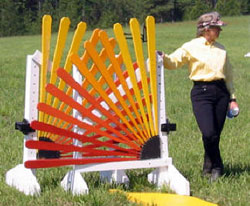 Deeda is an accomplished trainer for horses and riders on the ground, in dressage, and "over fences" disciplines.  She is adept at working with inexperienced horses and riders as well as the experienced.
Although Deeda instructs and judges all over the region, she regularly visits RMEC providing instruction in horsemanship, flat work, and over fences disciplines.
Deeda has served as a USA Equestrian Licensed "R" Dressage Technical Delegate since 1984. She became a licensed "r" Eventing Judge in 2001, and a licensed "r" Eventing Technical Delegate in 2003. She continues to judge all over the country when not riding or teaching.
Please refer to Deeda's website for additional information on her extensive background and experiences. Contact Deeda at drandle@wyoming.com
RMEC sponsors clinics with local and distant trainers at client/trainer request. Clinic details can be found on the Activities page.
Recent clinicians have included: Daniel Stewart, Dressage and Jumping flatwork; Peter Gray, Eventing; Dolly Hannon, Dressage; George Morris, Hunter/Jumper; Raian Kaiser, Equine Touch; and Sue Martin, dressage trainer/rider from Thousand Oaks, CA, conducts regular clinics at RMEC throughout the year.
Rabbit Mountain Equestrian Center, LLC
www.rabbitmountainequestriancenter.com or www.rmec.co